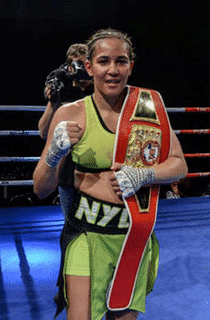 Personal Info
Nydia Feliciano
Nydia's Professional career spanned from 2009-2018. She faced some of the best fighters in the game during her time such as Jackie Trivilino, Jennifer Han, Amanda Serrano, Jenna Shiver, Ela Nunez, Mikayla Nebel, Shelly Vincent, Crystal Hoy, Heather Hardy, Noemi Bosques, Olivia Gerula, Mikayla Mayer & Alycia Baumgardner. She is the former IWBF Bantamweight World Champion, former USA New York State Featherweight Champion & UBF International Featherweight Championship. She is a true warrior in the sport of boxing!
Profile
Nickname: The Phenomenal
Country: Bronx, NY
Stats
Ranking: https://boxrec.com/en/box-pro/495723
Record: 9-10-3
Socials
My Media
You must be registered and approved as a boxer or promoter to upload content.
My Shows