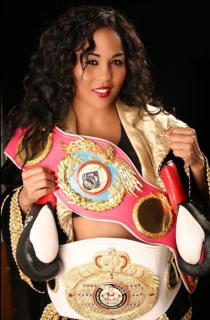 Personal Info
Kaliesha West
Join me on Tuesday May 16th at 8:30pm EST as we sir down with Kaliesha "Wild Wild" West to hear her amazing journey! Kaliesha is an amazing fighter & person that came from the same Era as myself! I consider her my boxing sister & she continues to amaze me with her grit, determination & drive to accomplish all of her goals in life even after her boxing career ended! She is the former 3X WBO Female Bantamweight World Champion & IFBA Super Bantamweight World Champion! Kaliesha was the first World Champion Boxer from the Inland Empire! She was also a contestant on the CW Reality show Capture placing 4th place out of 12 teams! She has always been and continues to be big voice campaigning & protesting across the US for equality for woman in sports! You don't want to miss her amazing story before, during and after boxing! Set your reminders!
Profile
Nickname: Wild Wild
Country: Moreno Valley, CA
Stats
Ranking: https://boxrec.com/en/box-pro/348788
Record: 17-2-3
Socials
My Media
You must be registered and approved as a boxer or promoter to upload content.
My Shows